Time was dragging on. Nellie's two year-old season was gone, and her three year-old season was sliding by. Johnny was grumpy. No one had nominated them for the Kentucky Derby; Brin was still recouperating from her near-deadly racing accident; and Nellie refused to run for anyone else. "Don't let George Welles anywhere near Li'l Lady," Johnny had instructed his trainer.
Mike stopped by the station one day when someone else was working for him. "Brin's up and walking now," he told Johnny.
"At least that's some good news! Now if someone would just nominate us to the Derby, and Nellie would stop being stubborn about who she wants to work with, we'd be in great shape!"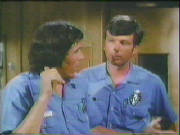 Nellie was eventually nominated for the Kentucky Derby; by whom, Team Sawyer would never know. Such gave Brin the inspiration to work even harder in her rehabilitation. Her internal organs had healed; now she needed her bones to mend correctly.
Brin and Mike were also trying to get their wedding planned. Rehabilitation; the Triple Crown; and getting married were a killer combination. Brin thought she'd lose her sanity. "One at a time," Mike told her. Rehab and wedding planning were fairly tame activities. The races would take care of themselves.
The first Saturday in May was upon them. Brin was back where she had started her career--Churchill Downs in Louisville, Kentucky. Nellie was behaving, now that her second favorite human was back. Her favorite human was her owner.
The day seemed to take forever. When they were finally in the starting gate for the Derby, the reality of the situation hit Brin. She didn't have time to get nervous--the gate sprung open and they were off.
Nellie settled into eleventh place, and no one was around her. Good. Very good. On into the backstretch, and Nellie started moving up on her own. What had Jules said? Nellie moved on her own again. When they hit the turn for home, Nellie took the bit in her teeth and took off. Well, okay, I hope you know what you're doing, Brin thought.
She did. Nellie hated being behind anyone. Brin steered her as best as she could to the open area of the track. Nellie changed leads and took off. They won by five lengths.
Two weeks later, they were at Old Hilltop--the local nickname for Pimlico in Baltimore, Maryland--saddling up in the infield under the black-eyed susan sign bearing Nellie's name and number. Nearly the same race was run as the Derby. Gage's silks were painted onto the cupola jockey after the victory.
The Belmont wouldn't be until June. The wedding would be two weeks afterward. The media was practically living with Brin and her aunt and uncle--camped out in their front yard almost. Brin didn't realize the price of fame was so high.
At Rampart, nurse Dixie McCall complained to Dr. Brackett about the incredible fatigue she had been experiencing lately. He was puzzled. An examination didn't reveal anything. Bloodwork was perfect. What was going on?
Dr. Brackett was in the ER hallway talking to Dr. Morton when Dixie called to him with paperwork in her hands. She was walking down the hallway when her eyes rolled back into her head and she fell to the floor. The two doctors put her on a guerney and started CPR. Two hours later, after doing everything possible, Dr. Morton put a hand on Dr. Brackett's arm and said, "Kel, I'm sorry, but we've got to stop. She's gone."
Dr. Brackett was disconsolate. The regret burned his heart. He had waited too long to pop the question, and now Dixie was gone.
The Belmont finally arrived. Team Sawyer was fighting grief; Johnny was very depressed. Even Nellie was affected. In the homestretch of the mile and a half third leg of the Triple Crown, she didn't change leads automatically.
"WIN IT FOR DIXIE!" Gage screamed.
Nellie changed leads, but it was almost too late. Dauphin was bearing down on them, and the closing moments of the race was a duel between filly and colt. "PHOTO" flashed onto the toteboard. Gage sat with his face in his hands. A roar went up from the crowd. Nellie had won--by a nose.
"Why didn't she change leads?" Jules asked when Brin and Nellie were brought to the Winner's Circle.
"I have no clue," Brin said as the carnation blanket was placed over the filly. Brin took the carnation bouquet.
They had done it. The three ladies--trainer, jockey, and filly--had won the Triple Crown.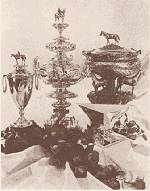 Now Mike and Brin could concentrate on that which had been delayed by her accident--the start of their life together. Two weeks wasn't a lot of time and it flew by. Back to Kentucky and Brin's home parish church. The candlelight wedding went perfectly, and the newlyweds spent their first night at the Old Talbott Tavern.