The autopsy showed that Brin had died of a gunshot wound to the chest, which had left her heart and right lung in tatters. There had been absolutely no chance of survival. A local funeral home shipped the twenty-nine year-old's remains to Kentucky.
Dr. Brackett, Mike, Cap and his wife, Henrietta, Chet, Marco, Johnny, and Roy caught a flight which looked more like a charter for both the track and the fire department. Several of Paradise Park's jockey colony were among the passengers, to include George Welles and his roommate, Vincent "Rooster" Williams.
Dr. Brackett sat with Mike, and kept the man sedated. The physician noticed that when the two jockeys sat across the aisle from them, Mike began to exhibit serious nausea even before the plane took off. Both jockeys couldn't stem their tide of tears.
Sabrina's dad, Fire Chief Harold Stanley, met Mike's group at the Louisville airport with a rented 15 passenger van. Everyone from L.A. could feel the grief in the air of Sabrina's hometown when they arrived; it was as palatable as the smell of mash being given off by the distilleries. Bardstown had not experienced such berevement since Charlie Battery had returned from Vietnam with only five soldiers. Mostly cloudy weather conditions only compounded the feeling.
At the house were brief introductions--Elizabeth Stanley, Brin's mom, and a dispatcher for the city police; and Brin's brother and sister who were fraternal twins--Barbara, a dispatcher for the county sheriff; and Bobby, a Kentucky State Trooper.
Dr. Brackett thought a walk through the picturesque little town with tree-lined streets would do the Angelinos good. No matter where they looked, signs of support were not only present on marquees, but in windows as well.
At a pizza restaurant:
WE LOVE YOU, SABRINA!
A car parts store close to the Stanley residence:
REST IN PEACE, SABRINA!
In a grocery store window:
PRAY FOR US, SABRINA!
On Third Street, which was considered "Main," they saw:
In a shoe store window:
PRAY FOR THE STANLEY-STOKER FAMILY
Mike, for once, felt some small measure of comfort.
At the sporting goods store:
YOU'LL BE MISSED, SABRINA!
"Hey, I like that one!" said Chet, as he pointed to the county courthouse on a circular island in the middle of town. A huge sign over the front door read:
MAY SABRINA'S PERPS RECEIVE JUSTICE!
Cap turned everyone around in front of the drug store at Third and Court Square--the corner opposite the courthouse. Pointing his right thumb over his shoulder, he said quietly to everyone except Mike, "There's the Tavern over there. That's where they spent their wedding night."
The group decided to stop in at a restaurant--"Joe's Place"--in the middle of the block across Third Street from where they were standing. The hostess and waitress put tables together in the middle of the thin dining room for the group. Dr. Brackett, Mike, Cap, and Henrietta sat facing the wall with a full-length mural depicting the life of songwriter Stephen Foster and one of Bardstown's biggest claims to fame, "My Old Kentucky Home."
"Isn't that awful about Harold's girl?" whispered a woman behind Dr. Brackett to her companion at a table for two.
"Yes! I hope they capture those terrible people and string them up good!" her friend whispered back.
My sentiments exactly, thought Dr. Brackett.
"Sabrina Stanley-Stoker kicks butt," said a young man coming in through the back door of the restaurant.
"Kicked butt is more like it," said his companion. "And I wouldn't mind kicking some myself, if I ever caught who did it." The two walked into the adjoining tavern.
Did Mike hear it? Dr. Brackett wondered, glancing over at him.
"I heard it," Mike said simply as he continued to stare at the mural across from him. Dr. Brackett was keeping him sedated.
After supper, Cap called his brother from the restaurant. Visitation was going to be from 7 to 9 pm, but he had no clue as to where the funeral home was located.
"It's on the other side of the courthouse from you, at the end of the second block, on the right. Great big old house with white pillars. We'll meet you down there in a few minutes."
Dr. Brackett distracted Mike as they traversed the Court Square opposite the Tavern.
The group found the funeral home, but Mike was totally unprepared for the sight of his deceased wife in the casket. It was the first time he'd seen her since a week ago at the track when she went down.
The scene was too much; he fainted. A funeral director stuck an ammonia inhalant under his nose to rouse him. Once he came to, the fact that this was a situation warranting a farewell hit Mike like a Mack truck. And to say he didn't want to say good-bye would have been the understatement of the millenium.
He stood next to the casket, supported by Cap and Dr. Brackett. Reaching out his hand, Mike twirled a strand of Sabrina's naturally wavy coarse black hair around his finger and pulled it off. He then traced her well-muscled right arm with the back of his index finger, up to the crystal rosary intertwined in her hands. "Make sure I get her ring back," he wept.
Mike leaned over toward her face, like a legally blind man attempting to read a newspaper, and put his cheek toward her nose. Aside from the pasty look of whatever makeup they had put on her, the lack of breath from her nose sent the pain even deeper than he'd dreamed possible. He sunk to his knees, chest heaving with deep sobs.
Visitation seemingly took forever--especially for Mike. The crowds were so large that they had to extend visitation hours to 11pm. Sabrina would be buried eleven hours later from the same church in which she and Mike had repeated vows. On the way back to the Stanleys, Mike asked,
"Why is she being buried in Kentucky?"
"Didn't she tell you her burial plans?" Chief asked.
"No, sir."
"I had her come up with a pre-planned burial before she even set foot on the track. She's the one who said to do so."
"Yes, sir."
By 8am Saturday morning, the scanner traffic was becoming increasingly interesting.
"Bardstown, we've already got people lining up on both sides of KY 245 next to the cemetary. We're going to need more personnel," said Car 1.
"Bardstown, can you contact KSP and see if they've got anyone willing to come in?" requested the police chief.
"Bardstown, we've got crowds forming at the Cathedral already," said Car 2.
Chief Harold Stanley decided to take the bull by the horns.
"P.D.," he said from his home radio console.
"Go ahead, chief."
"Mobilize the fire department and tell them to follow officer's orders as to where to stage the equipment. Wear uniform shirts if possible, and lock the bay doors when they leave."
"10-4."
"We copy, Chief. But one guy here is assigned to work the funeral as an usher," a firefighter responded.
"Tell him to persevere. We'll need him at the church."
"10-4."
Chief Stanley turned to the mesmerized Angelinos. "You'll hear a scre . . ."
A high-pitched tone started screaming from the radio and lasted about 10 seconds.
"Attention all members of the Bardstown Volunteer Fire Department. Please report to the fire department for funeral crowd control. Chief advises to stage equipment where requested by the P.D.; to wear uniform shirts if possible; and to lock the bay doors upon leaving quarters. KCL-207 clear at oh eight oh five."
"P.D. to chief," said the dispatcher.
"Go ahead, P.D.," responded Chief Stanley.
"What route do you want the procession to take?"
"Avoid Third and Stephen Foster coming from the funeral home. From the church, take Stephen Foster to Jones to Broadway to Third to 245."
"10-4."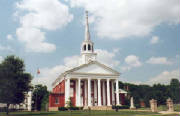 At the funeral, honorary pallbearers Welles and Williams again sat across the aisle from Mike. When the Archbishop of Louisville began his sermon, pleading for the perpetrator to come forward and receive justice, Welles nearly fainted out of the pew. Williams helped him out of the church. Mike reeled onto Dr. Brackett.
The crowds had been dispersed to the elementary and high school cafeterias and the gym of the former. The local radio station had set up broadcast speakers in all three sites. The church portico was practically empty. Rooster sat George down on the front granite steps, next to one of the six great white pillars. An usher followed them.
"Might I be of assistance?" he asked.
"He nearly fainted," Rooster said, pointing at George.
"Please put your head between your knees. One of my ushers is an EMT. I'll go fetch him."
After the usher left, Rooster asked George, "When was the last time you ate?"
"A couple of days ago."
A tall thin man with glasses exited the church, and attended to George.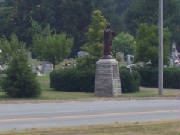 The funeral Mass of the Resurrection took about an hour and a half. The worst part was yet to come--the Committal. The prayers were too brief for Mike's comfort. He wasn't ready to let go of her. When the funeral directors started moving the family back to the limousines, Mike protested loudly.
"NO!" he screamed, reaching for the casket. "DON'T MAKE ME LEAVE HER! BRIN! BRIN!"
As if he had x-ray vision, he visualized Brin in the casket.
"BEAUTY DOESN'T BELONG IN THE GROUND!" he screamed. He broke away from them, ran back to the casket, and draped himself over one end. "WHY CAN'T SHE GO BACK TO CALIFORNIA WITH ME?!"
Dr. Brackett trotted over to Mike. Pulling him up, he took the man's face in his hands, and the weeping physician made eye contact with Sabrina's hysterical widower, who was looking more dazed and spaced-out by the minute.
"Mike, she's gone, and there's no bringing her back. Nobody can bring her back. She was gone when I got to her that day. If I could've saved her then, I would've tried everything to do so. But I couldn't. C'mon, man, let's go home."
"I'VE BEEN ROBBED!" Mike wailed before he got into the limousine.
****
Cap and Henrietta stayed the first night back in L.A. with Mike, who went straight to the stereo after walking in the front door. Harry Nilssen was soon crooning Mike's unspeakable feelings through Without You. As the widower sat on the steps going to the master bedroom, clutching his favorite picture of Sabrina to his heart, he wept very bitterly. Cap and wife were preparing their guest bedroom.
No, I can't forget this evening
Or your face as you were leaving
But I guess that's just the way
the story goes
You always smile, but in your eyes
your sorrow shows
Yes, it shows
No, I can't forget tomorrow
When I think of all my sorrow
When I had you there but then
I let you go
And now it's only fair that I should
let you know
What you should know
I can't live, if living is without you,
I can't live, I can't give anymore,
I can't live, if living is without you,
Chills went through Cap when Harry hit the high notes. "Sounds more appropriate for the hospital scene we just went through," he said to his wife.
"He just found his words," said Henrietta.
I can't live, I can't give anymore!
Cap and Henrietta sought out Mike, and sat on either side of him on the steps. "Let's loosen your tie, sweetie," said Henrietta.
Well, I can't forget this evening,
Or your face as you were leaving,
But I guess that's just the way
the story goes
You always smile, but in your
eyes your sorrow shows
Yes, it shows
I can't live, if living is without you,
Mike got up, and curled into a fetal position on the floor between the foyer and kitchen bar.
I can't live, I can't give anymore,
I can't live, if living is without you,
I can't live, I can't give anymooore
If living is without you
Cap steered Mike to the recliner, knowing the man wouldn't want to sleep in his own bed.
"Why didn't they let me die?" Mike kept asking as he cried himself to sleep. "Why didn't they let me die?"