The Company of Charity of Our Lady of the Miraculous Medal (CCMM) intends to live the spirituality of St. Vincent de Paul and St. Louise de Marillac. The CCMM will be involved in the spiritual and corporal works of mercy.
CONF standards mandate Salesian and Teresian spiritualities to be incorporated into the formation program. St. Vincent de Paul and St. Francis de Sales were also contemporaries.
Our Society of Apostolic Life (nonreligious vows renewed annually) will be distinguished by allowing members to follow the spirituality which takes them to God. This will permit them to found new religious institutes of those spiritual traditions once enough aspirants have been gathered.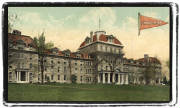 Convent will be based on this building.
How does the concept of 'recluse' fit into this congregation?