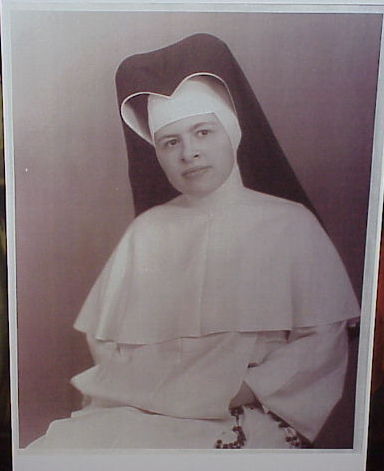 The habit will be the typical Dominican white with black veil, only with the distinctive heart-shaped coif worn by the DSSP sisters. This coif was adapted for driving after Vatican II.
Those interested in this renewal are encouraged to read Such Love is Seldom: The Story of Mother Mary Walsh, O.P., Foundress of the Dominican Sisters of the Sick Poor by Anne Cawley Boardman.
The horarium of the renewal will follow along the lines of the original charism, with rising at 5am; community prayers in the convent; going out to Mass at the local parish; then dispersing to minister in the field. Everyone returns at around 5pm for Vespers (Evening Prayer); supper; recreation; Compline (Night Prayer) and Salve Procession. The Great Silence ensues, and retiring for the night takes place around 10pm.
We plan for this Renewal to be another option for those drawn to the Extraordinary Form of the Latin Rite (EFLR/Traditional Latin Mass), and for Latin prayers to be used. Please note, however, that the Mass itself will be contingent upon the location of the foundation and the availability of the EFLR.
The age limit starts at 17, as set by canon law. We are not able to provide nurses' training at this time, so candidates will have to have their education (and subsequent debt situation) in hand. There is no upper age limit, as long as the older woman is capable of ministering.
We ask that those who desire admission to the renewal meet the same conditions as other communities--single, practicing Catholic with no impediments (dependents, debts, etc.). Annullees (those with annulments) are accepted. Non-virginity is not an issue as long as the candidate shows mental stability. Other religious are welcome, as long as they leave their community on good terms, and are docile and can accept formation.
How will it start?
If two or more are gathered in the name of Christ, and are of one accord, then Jesus is present. Two or more people engaged in the same apostolate is known as a "private association of the faithful." Those who intend to create a religious community will have "with the intention of becoming an institute of religious life" tacked onto the end of the "private association of the faithful." We have a yahoo group dedicated to this purpose, for we must foster discernment and communication before anyone can start living together as a community.
New Foundations, as they're called, should start slowly. There are seven pillars which must be built before asking a bishop's recognition of the project: rule; constitutions; horarium; remunerative work; novitiate; stable source of habit parts; four persevering members.
The original rule of the DSSP is about to be put online by Google. Constitutions adapted for modern times will have to be written, as will the formation program. The Dominican priest who is supporting this project is a habit maker, and can even make the heart-shaped coif. All we need now are vocations.